As February wains we sadly must bid adieu to our
our
February Leading Lady
Rosali
.
The last few weeks with Rosali has been a tour de force of astounding design and impeccable technique. Rosali has exhibited her tremendous talent and crazy creativity week after week. I feel so fortunate Rosali shared her talents with us this month and made this month something special.
If you missed her smashing debut you must see it...

CLICK HERE or to be wowed by the tremendous trio of cards from her sensational second performance CLICK HERE or her triumphant third performance where outdid herself today with her ability to create a gorgeous scene CLICK HERE! Today's post will unmask some new ways of using your stamps!

In honor of our birthday month we're doing something a bit different this year and including a challenge to you on each of Rosali's posts this month.
See the end of this post for more details and to link up!
Lucky for us all we have her final command performance today.
Hi there and happy Saturday!


How are you today? February has flown by so far and I am excited to bring you my last post as Winnie & Walter's Leading Lady and show you another masking technique! It's kind of a bitter sweet moment as I had so much fun creating with their products but I feel very lucky to have gotten this opportunity!! :-)
So far, I have been telling you something about "masking backgrounds with stencils & with dies", and about "building a scene with masking". Today I am gonna focus on:
ALTERING STAMP IMAGES WITH MASKING
I always like to come up with ways to use my supplies in a way they weren't necessarily intended for and make the most out of them that way! This goes especially for Christmas stamps ... I don't know about you but mine don't get used enough because I have a lot of them and they are all so cute! Therefore, I am gonna show you two ways of altering stamp images so you can use them the whole year round! I will try to explain everything as clearly as possibly - but if there are any questions left just leave me a comment under my post, okay?
LET'S TAKE A CLOSER LOOK AT THE FIRST CARD:
The cute Volkswagen Beetle stamp from "Snowy Holiday with Evelin T Designs" originally has a tree and Christmas presents on top of it. Here's two ways to get rid of those so you end up with just the car:
Use washi or painter's tape to mask off the tree and presents when inking up your stamp. You can also use your finger to wipe off ink if you have any left where you don't want it.
I cheated a little bit and did it the lazy way: I stamped and watercolored the car image and then simple cut the tree and presents off with my scissors.
I still did some masking on the background: I used a strip of Post-It tape over my background panel and blended an aqua-colored ink sky over it. It's the quickest way to create a background for a simple scene!
Since balloons are often translucent I just stamped those on top of the ink and colored them in with Copics. I took sentiments stamps from "So Tweet with Evelin T Designs" and heat embossed "love" in gold on Vellum. I also added a bit of gold to the headlights and gold rhinestones and sequins. I am happy with how the non-traditional wedding car(d) turned out! :-D
SECOND CARD: ALTERED YETI IMAGE
I had this idea in my head of a yeti family on a baby card! So I took the "Yetitide Greetings with Evelin T Designs" stamp set and combined two stamps into one.
HERE'S A MASKING HOW-TO:
1. Take the first stamp (yeti with baby yeti and sleigh) and use washi or painter's tape to mask off the sleigh and the piece of rope in the yeti's hand before inking it up. You can also use your finger to wipe off ink.
2. Stamp this yeti and baby yeti after you removed the washi tape. Stamp it again on a piece of masking paper, fussy cut it and put it over your stamped image.
3. Now take the second stamp (caroling yetis) and place the stamp over your masked image so that the left caroling yeti fits and the music book won't show. Remove the mask when finished. Tadaaa!

I adhered my yeti family using foam tape. I created a frame out of the biggest rectangles from "Tilda Cutaways". For the background I repeatedly stamped circles from the "Scenery: Dotty" stamp set in my favorite shades of mint and blue. Then I used the "Baby Cutaway" and cut it right into my background and adhered the panel flat onto a teal cardbase. The "Welcome" sentiment stamp from "So Tweet with Evelin T Designs" made my baby card complete!
COPIC GUIDE & COLORING TIPS:
Balloons: RV02, RV04
TIP 1: I used watercolors to color the red car. To get enough shading it's best to add at least two layers of watercolor. Let the first layer dry completely, then add more pigment with a second layer.
TIP 2: After fussy cutting the beetle I went around the cutting borders with a black marker to get a finished look. I learned this from Kristina Werner when I started cardmaking and it makes a big difference! :-)
Yeti's faces: YR30, E51, E21, R20
Yeti's fur: W1, W3, W4, W5 & B00
Scarfs: BG15, BG09 & B14, B06, B37
TIP 3: For some texture and additional shading, add tiny dots with the tip of your marker like I did on the fur of all three yetis.
---
I'd like to thank all of my lovely readers for leaving comments and reading my long posts! :-D I hope to have inspired you a little bit. And a huge THANK YOU again to Shay for having me on the blog this month, it has been a crafty dream come true!! ♥


For today's challenge, any type of masking and altering a stamp image will be fine! I am totally aware that my second example with the yetis might be a little complicated so that not everyone feels like it. ;-)


And don't forget to leave comments
on my blog
for your chance to win a gift certificate sponsored by Winnie & Walter. I am gonna pick a winner after Sunday 24th!
Thank you for stopping by!! ♥
Rosali
---
USED SUPPLIES:
Winnie & Walter stamps, dies and stencils:
Essentials: Tilda Cutaways
Snowy Holiday with Evelin T Designs Stamp Set
Snowy Holiday with Evelin T Designs Cutaways
LS Exclusives: So Tweet with Evelin T Designs Stamp Set
Yetitide Greetings with Evelin T Designs Stamp Set
Yetitide Greetings with Evelin T Designs Cutaways
Scenery: Dotty Stamp Set
In a Word: Baby Cutaway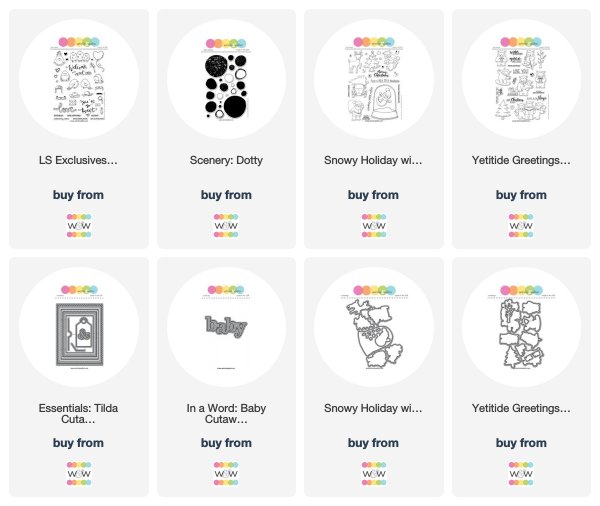 CHALLENGE:
Now that you've seen Rosali do it, "Altering Stamped Images with Masking" to create your own project and link up here by Friday, March 15, 2019, 11:59 p.m. CST to be entered to win $50.00 credit to the w&w shop!
One (1) lucky randomly chosen winner will be picked from each of Rosali's Leading Lady posts this month.